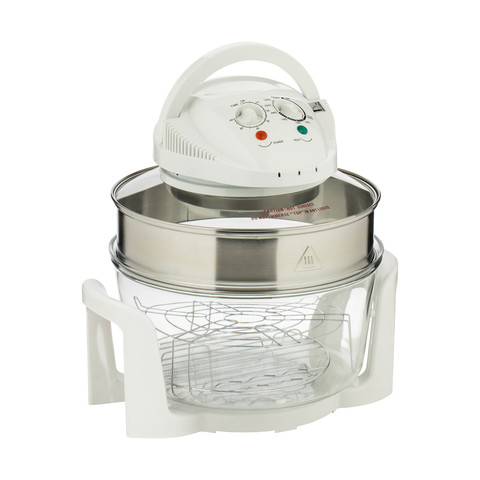 <p>Featuring hot air circulation for even cooking, this convection oven with timer is perfect to roast, bake, grill, steam, fry, toast and defrost food. With upper and lower racks, the glass oven lets you cook a complete meal at the same time.</p><ul><li>Borosilicate glass (bowl), polypropylene (base) and acrylonitrile butadiene styrene (head)</li><li>Includes a lid holder, extender ring, high and low racks, lid with timer and cool touch handle</li><li>Functions include: roasts, bakes, steams, fries, defrosts</li><li>Hot air circulation cooks and browns food fast and evenly</li><li>Meat sears quickly on the outside, sealing the juices on the inside</li><li>Glass body keeps the food visible</li><li>Self-cleaning, fully portable and easy to operate</li><li>This appliance is designed for general indoor household use only</li><li>Tested to applicable Australian electrical safety standards and certified as compliant</li><li>Durability and performance testing carried out prior to QA approval</li><li>Size: 34cm (H) x 40.5cm (Dia.)</li><li>12-month warranty</li><li>Colour: White</li><p><p><strong>Safety instructions:</strong></p><ul><li>You can cook anything that can be cooked in a conventional oven</li><li>As a general rule, temperatures will remain the same as those cooked in normal ovens. However, the cooking time should be less, in most cases, 10%-15% less.</li><li>Always undercook until you have gained sufficient experience</li><li>Place food directly onto the racks unless otherwise specified</li><li>Do not overload the oven space, this will affect its efficiency</li></ul></p></ul>
---
Featuring hot air circulation for even cooking, this convection oven with timer is perfect to roast, bake, grill, steam, fry, toast and defrost food. With upper and lower racks, the glass oven lets you cook a complete meal at the same time.
Borosilicate glass (bowl), polypropylene (base) and acrylonitrile butadiene styrene (head)
Includes a lid holder, extender ring, high and low racks, lid with timer and cool touch handle
Functions include: roasts, bakes, steams, fries, defrosts
Hot air circulation cooks and browns food fast and evenly
Meat sears quickly on the outside, sealing the juices on the inside
Glass body keeps the food visible
Self-cleaning, fully portable and easy to operate
This appliance is designed for general indoor household use only
Tested to applicable Australian electrical safety standards and certified as compliant
Durability and performance testing carried out prior to QA approval
Size: 34cm (H) x 40.5cm (Dia.)
12-month warranty
Colour: White

Safety instructions:

You can cook anything that can be cooked in a conventional oven
As a general rule, temperatures will remain the same as those cooked in normal ovens. However, the cooking time should be less, in most cases, 10%-15% less.
Always undercook until you have gained sufficient experience
Place food directly onto the racks unless otherwise specified
Do not overload the oven space, this will affect its efficiency
Click & Collect
Order online and collect in-store.
Location

Cost

Ready for collection

Location

In selected stores
Cost

$3 packing fee
per order
$3 packing fee per order
Ready for collection

Within 24 hours
Delivery

We package up your order and deliver it to your door.
Location type

Standard delivery

Delivery timeframe

Metropolitan
$10
3-5 business days
Regional
$14
5-7 business days
Remote
From $16
7-14 business days
Big and bulky items (e.g. furniture, play equipment) will incur additional delivery charges beyond standard rates listed above.
You can see the actual cost of delivering your order by adding items to your Shopping Bag and proceeding to the Checkout.
Still have questions?
Please refer to Kmart FAQs
\
Check if this product is available at a store near you