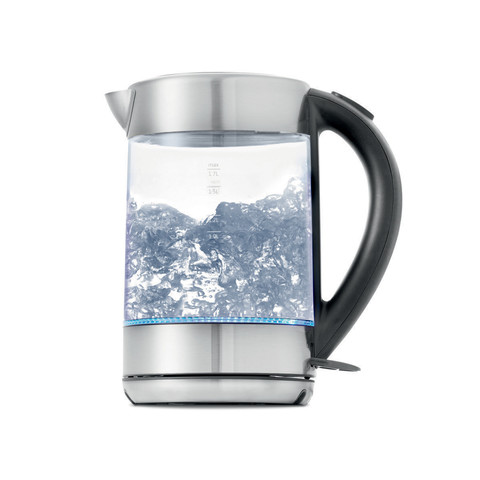 <p>Featuring a lid release trigger connected to the handle, this glass kettle prevents splashes of hot water. Its transparent body makes filling fast and easy - get this electrical appliance to boil water in quick time!</p><ul><li>1.7 litres</li><li>Glass and stainless steel</li><li>Clear kettle with LED light ring at the bottom</li><li>Illuminates to indicate the kettle is switched ON</li><li>Automatically turns OFF after boiling</li><li>Features a spout with filter, lid release trigger, cable winding and carry handle</li><li>Instruction manual included</li><li><a title="Guide" style="color: #0079c1" href="http://www.kmart.com.au/wcsstore/Kmart/pdfs/42402466_Manual.pdf" target="_blank">Instruction Manual</a></li><li>Tested to applicable Australian electrical safety standards and certified as compliant</li><li>Durability and performance testing carried out prior to QA approval</li><li>Clean according to instructions on the care label</li><li>25cm (H) x 15cm (W) x 23cm (D)</li><li>12-month warranty</li><li>Colour: Clear</li><li>Warning: The kettle is intended solely for boiling water. Follow usage instructions carefully.</li></ul><p><strong>Usage Instructions</strong></p><ul><li>Press the lid release trigger, the lid opens automatically</li><li>Fill the kettle with the required amount of water</li><li>Firmly press the front of the lid to close it</li><li>Unwind the cord and plug the mains cable to an earthed power outlet socket</li><li>Place the kettle on the base</li><li>Set the power switch to ON - the control blue lamp lights up automatically</li><li>Note: Make sure the lid is closed securely, otherwise the auto switch OFF may not work</li></ul>
---
Featuring a lid release trigger connected to the handle, this glass kettle prevents splashes of hot water. Its transparent body makes filling fast and easy - get this electrical appliance to boil water in quick time!
1.7 litres
Glass and stainless steel
Clear kettle with LED light ring at the bottom
Illuminates to indicate the kettle is switched ON
Automatically turns OFF after boiling
Features a spout with filter, lid release trigger, cable winding and carry handle
Instruction manual included
Tested to applicable Australian electrical safety standards and certified as compliant
Durability and performance testing carried out prior to QA approval
Clean according to instructions on the care label
25cm (H) x 15cm (W) x 23cm (D)
12-month warranty
Colour: Clear
Warning: The kettle is intended solely for boiling water. Follow usage instructions carefully.
Usage Instructions
Press the lid release trigger, the lid opens automatically
Fill the kettle with the required amount of water
Firmly press the front of the lid to close it
Unwind the cord and plug the mains cable to an earthed power outlet socket
Place the kettle on the base
Set the power switch to ON - the control blue lamp lights up automatically
Note: Make sure the lid is closed securely, otherwise the auto switch OFF may not work
Click & Collect
Order online and collect in-store.
Location

Cost

Ready for collection

Location

In selected stores
Cost

$3 packing fee
per order
$3 packing fee per order
Ready for collection

Within 24 hours
Delivery

We package up your order and deliver it to your door.
Location type

Standard delivery

Delivery timeframe

Metropolitan
$10
3-5 business days
Regional
$14
5-7 business days
Remote
From $16
7-14 business days
Big and bulky items (e.g. furniture, play equipment) will incur additional delivery charges beyond standard rates listed above.
You can see the actual cost of delivering your order by adding items to your Shopping Bag and proceeding to the Checkout.
Still have questions?
Please refer to Kmart FAQs
\
Check if this product is available at a store near you