READ ALL STORIES
Super science for kids! 3 awesome (& educational) projects!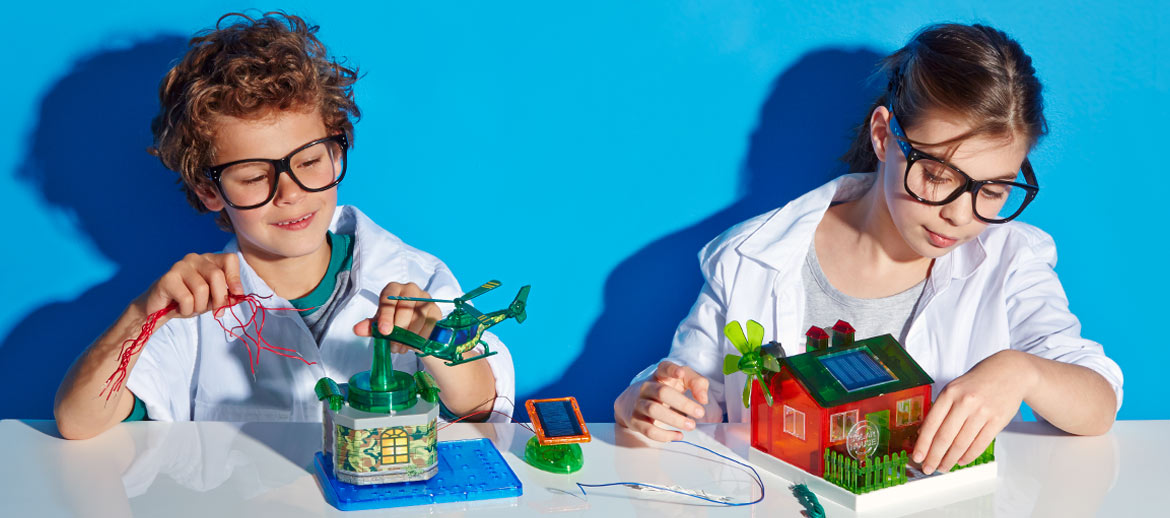 It's the ultimate (and affordable!) way to introduce kids to science – fun projects that get little boys and girls imaginations bubbling with ideas as they learn about solar power, robotics, electrics and gravity. They'll be hooked as they take part in cause and effect in motion!
Get Terrific Scientific
Mixing potions, building robotic bubble blowers, constructing a solar house… Your kids will be entertained for hours with fun and educational science projects! Science workshops, where children can experiment and activate 'cause and effect' with results are a great way to have fun and learn at the same time. Solar powered science toys and gadgets engage little eco-scientists in learning about our greatest renewable energy source. An excellent beginners kit is an easily assembled 'Build Your Own Solar House' set – no glue required! Kids learn how the sun's energy can be converted into electrical energy to drive a solar powered windmill, create sounds through a solar powered speaker, as well as building and developing fine motor skills.
Defy Gravity & Power up!
For an irresistible way to introduce kids to robotics and gravity-defying science, little engineers will love building a robotic bubble blower or balloon racer, as they learn how air and pressure propel their creations to take flight! Electrics have been a favourite to get little fingers and minds ticking for eons, as kids discover the power of positive and negative electrical polarity. An Electric circuit maze will spark loads of ideas on energy, power, engineering and navigating!
Add… Imagination
After all that planning and experimenting, it's time to make those projects come alive! Create different scenarios with their science projects, making suggestions and asking questions to develop imaginations further. Pretend their solar panelled house is a real home, and explore what happens when the sun's energy is absent from the powering process, or how energy can be conserved through simple ways, such as switching lights off when not in use. Or introduce the concept of time to your mini engineers, as they race through an electric maze or propel their balloons through space, time and distance.
Please note: The products featured in this story are available to purchase in store from 25 June – 15 July 2015.