READ ALL STORIES
Stylish Kids' Bedroom Makeovers!
Posted on February 1, 2016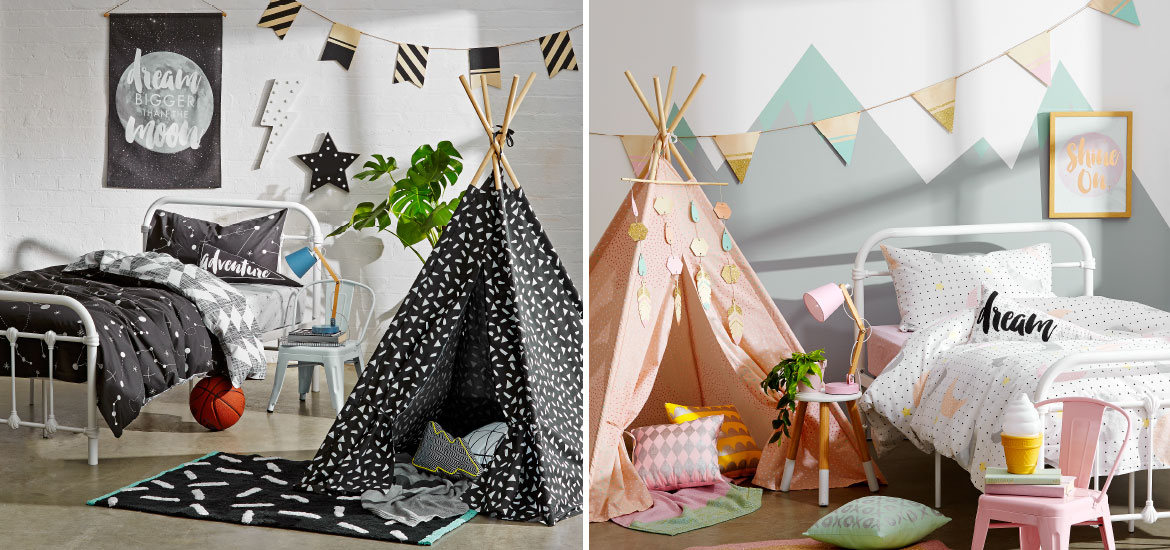 If it's time to update the kids' rooms, you've knocked on the right door! Check out these stunning ideas – the kids will never want to leave their sanctuary!
An Explorers Dream
The look: Sleek and contemporary with personality plus.
Colour wheel: Greys, whites, black and a touch of blue.
Fun dose: Set up a play tent! Little ones will love hiding out in their tee pee, reading stories and building LEGO – in private! Upgrade dull night lights with a feature piece that's as stylish as it is ambient, with cool light boxes like stars and lighting bolts. And make the walls a feature canvas for inspiring art and bunting to add interest.
Add function: Easily keep clutter at bay by storing toys in storage boxes under the bed. This will not only keep their room tidy but it will mean the kids have easy access to their toys. Using reversible bedding is a great way to update the look of your child's bedroom with fun new designs that will make your little astronaut love sleep time!


A Pretty Haven
The look: Soft, pretty and calming.
Colour wheel: Pastel pinks, gold and whites.
Fun dose: This may be a nurturing space, but that doesn't mean it can't be fun! Create a play zone with a tee pee tent and add bedding in soft shades to bring freshness to the space. And don't forget the walls – they are prime real estate for bedroom makeovers! Jazz them up with your child's artwork or hang metallic gold prints that pop against softer colours.
Add function: A whimsical room is the perfect place to get creative, so set up an inviting working space for homework. Keep toes toasty warm in the cooler months with a stylish floor rug and add storage hooks to the backs of doors so kids can hang school bags and jackets and keep their space tidy.


Please note: The products featured in this story are available to purchase in store from 1 February – 21 February 2016.
MORE STORIES