READ ALL STORIES
Study Tips To Make Homework Fun
Posted on January 8, 2016
It's the little extras that can make homework fun! Check out these bright ideas and easy tips to create a regular routine and inspire creativity in your little scholar…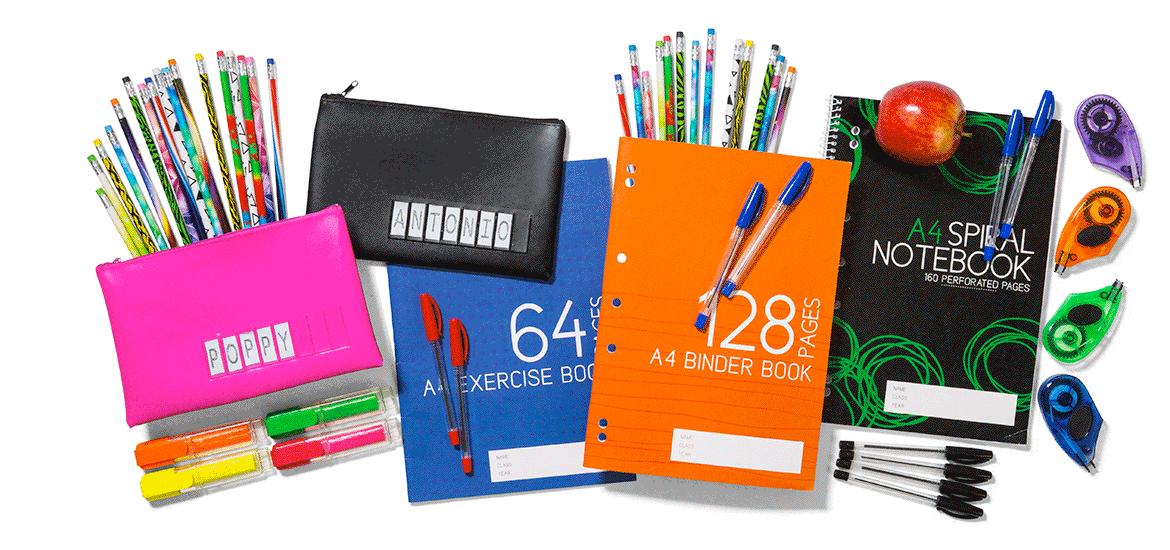 A4 exercise book 35c, Small name pencil case 75c ea, 2 pack Bostik Blu Stick 8gm $1.50pk, A4 binder book $1, 4 pack highlighters $2.50pk, 30 pack assorted HB leads $3pk, Assorted 10 pack ballpoint pens $1.50pk, A4 spiral note book $2, 4 pack coloured correction tape $3pk.
1. Set A Routine Work out when your child works at their optimum – is it mornings that they are as fresh as a daisy? Perhaps it's after school and a quick, healthy snack to revitalise their energy levels? Determining their peak performance times will not only help them concentrate, absorb information and be more time efficient, but it will also help them schedule a regular routine and structure to accomplish set homework without resistance! 2. Make A 'To Do' List If the kids are feeling overwhelmed by their long list of mathematics, grammar, spelling, creative writing and science projects, help them devise a priority list to work through and set tasks for each day. A long list can be overwhelming for little minds, but breaking things down and prioritising can make set tasks more achievable. 3. Create A Workspace An organised workspace can be much more appealing to get focused or creative than a cluttered kitchen table! Set up a workspace that is free of clutter, distractions and is comfortable enough for them to do their homework.
4. Have The Essentials Handy Brighten up their homework schedule by having all the essentials ready, in fun colours and cool designs. Highlighters in fluorescent colours can brighten up a page instantly and function to highlight key points. Personalised name pencil cases add personality, keep stationary organised and are easy to recognise making them great for school and the home desk! 5. Create A Rewards System Many kids thrive on rewards systems, so if this works for your child consider a fun treat after the hard work is done. It could be playing with friends, a kick of the football, Pokemon trading or tuning into their favourite iPod playlist. Whatever works as an incentive to stay focused on their homework and to feel rewarded for completing the set task.


Please note: The products featured in this story are available to purchase in store from 11 January – 27 December 2016.
MORE STORIES