READ ALL STORIES
Let's Make Dough! 4 Pasta Maker Tricks & Tips
You don't need to be a master chef to churn out mouth-watering pasta! Check out these tricks and tips to serve up delicious homemade pasta dishes straight from your kitchen bench…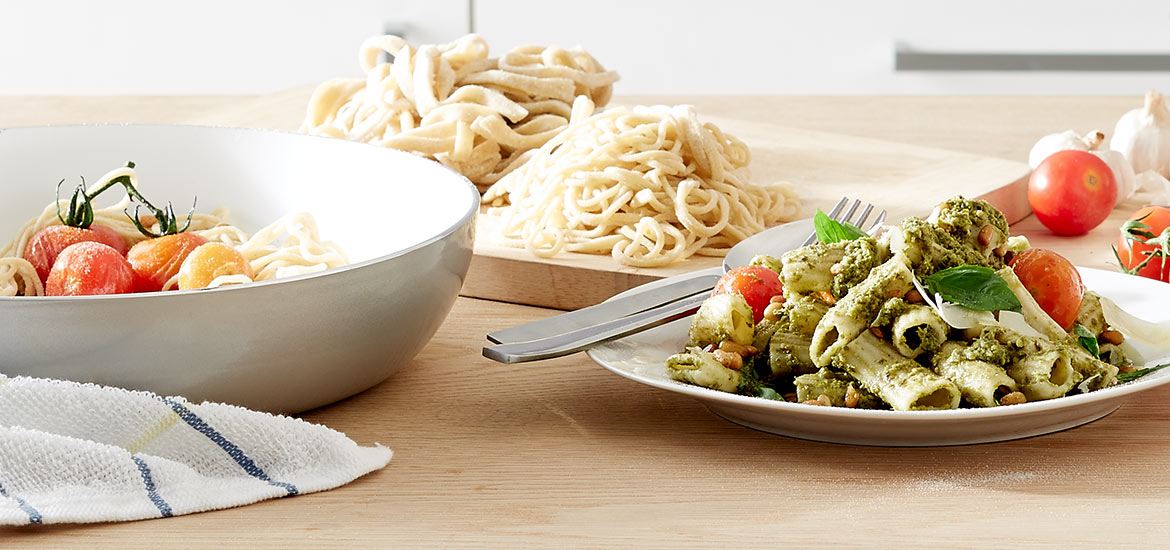 Double The Fun!
Make double portions of your pasta dough and freeze a ball in cling wrap for a later date. Get the family involved with the kids kneading the dough in portions until all the air pockets and crumbly bits are worked out and the dough is smooth and elastic to touch. Supervise the kids while they work their dough portions through the machine creating pasta masterpieces!

Sneak Vegetables In For Healthy Kids' Meals!
If the children cringe at the thought of eating zucchini, mushrooms and carrots, disguise them in a pasta sauce. Just grate carrots and zucchini and finely chop mushrooms. They won't suspect a thing!

Mix Up Your Dishes!
Use a pasta machine with different nozzles to create new pastas, like spaghetti, linguine, rigatoni and fettuccine and try a range of sauces with tomato bases, vegetables or pesto bases. Creamy salmon fettuccine, seafood marinara and spaghetti bolognaise served up straight from the cook top is sure to be a family hit!

Cook Up A Storm!
If your pasta always turns up gluggy, try making sure you have a large saucepan and place the pasta in when the water is boiling and bubbling first, then stir it occasionally to help prevent it sticking. Trial the pasta to make sure it's cooked to your liking. For al dente, slightly undercook it. Bon appetite!


Pesto Sauce Recipe
• 1/4 cup pine nuts
• 1 1/2 cups fresh basil leaves
• 2 small garlic cloves halved
• 3/4 cup shredded parmesan
• 5 table spoons of olive oil

METHOD
Step 1: Preheat oven to 180 °C. Spread the pine nuts over a baking tray. Bake in the oven for five minutes or until toasted brown. Remove from the oven and set aside for 10 minutes. Allow to cool.

Step 2: Place the pine nuts, basil, garlic and parmesan in a food processor and process until finely chopped. Gradually add the oil until well combined.


Please note: The products featured in this story are available to purchase in store from 12th May until 1st June 2016.
MORE STORIES