READ ALL STORIES
Kids' Rulz: 3 Ways They're Rocking Winter Jackets
They may be little, but these boys and girls outfits are big on the style factor. Here are three ways that kids are warming up their winter looks…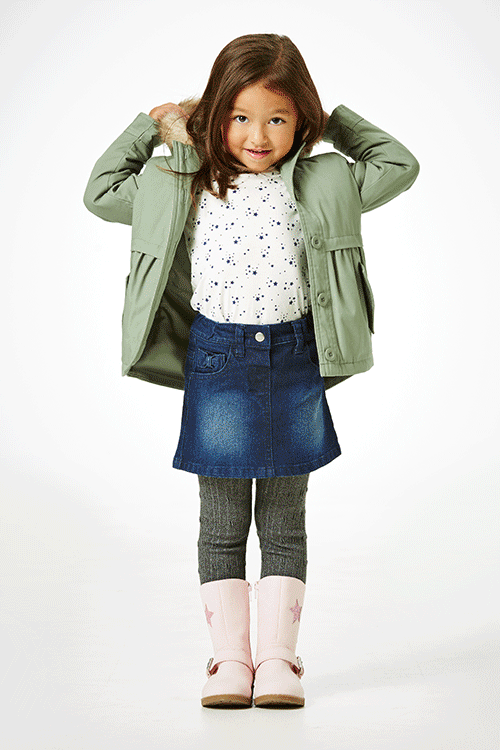 Little Green Riding Hood
A hooded parker with fur trim will keep their little ears warm and hair dry. This jacket can also be styled many ways.
1. Mix pretty floral tops and print leggings over rocking denim skirts to lighten up the adventurer style khaki parka. Boots are essential for outdoor play on those cold winter days.
2. Pair a long sleeve top and on-trend embroidered denim jeans to rock the style stakes. Add cowboy boots to complete the look.
3. Little free-spirits can channel the music festival vibe in bohemian-inspired dresses and knitted cable leggings. Hit the beat with laser-cut boots for some boot scootin' fun and pull up the hood for trendy weather protection.
H&T girls' parka. $20
Shop Now
Little Camouflage Commanders
Get your little commander prepared for big adventures with a cool camouflage puffer vest that's ready for action, cooler weather and just about any occasion.
1. Hit the courts with high-tops great for jumping, play and ball kicking action. Use lighter-layer long sleeve tops under a vest and team cargos in a relaxed fit for unrestricted play.
2. For little trail blazers, try a double layer tee that amps the camouflage look with a pair of stylish on-trend high boots and chambray trim pants. Add a layer of cool factor with the puffer vest.
3. The perfect outfit for a visit to Nanna's house or for occasions that require smarter dressing! A stylish long sleeve top will keep arms warm, and canvas shoes with adjustable tab will mean you're not tying laces all day long!
H&T boys' camo puffer vest. $15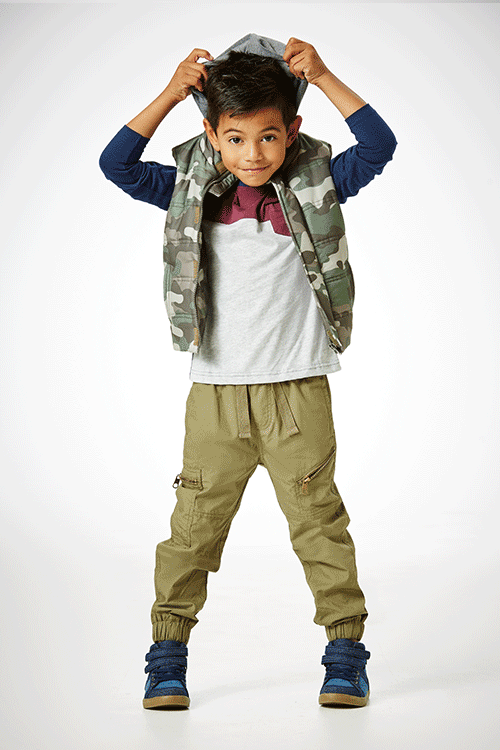 Please note: The products featured in this story are available to purchase in store from 12th May until 1st June 2016.
MORE STORIES