READ ALL STORIES
Kids Dress-Ups! 3 Fantasy Play Benefits
Posted on November 26, 2015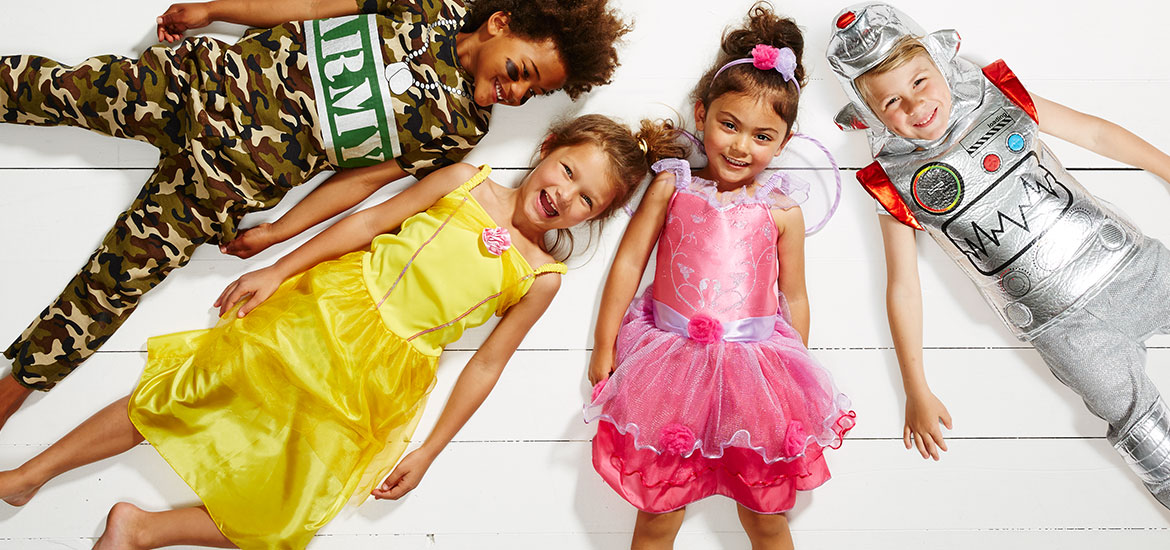 If your little princess or talking robot is permanently kitted out in their favourite character costume, this will be music to your ears! Check out the incredible benefits of encouraging fantasy play… Kids' dress-ups provide more than just endless fun and games! Fantasy play can help develop imagination, enhance curiosity and learning, allow kids to express and cope with emotions, as well as act-out real life experiences they've encountered through their characters in order to 'make sense' of things. So encourage your little robot to explore the universe and your fairy princess to cast spells through creative play, fantasy scenarios, story telling and dress-ups! Check out just some of the benefits of developing your child's love for fantasy play…
1. Fantasy play can help develop imagination, curiosity and learning
Set up a home environment where pretend games are encouraged and can lead to even greater amounts of imaginativeness, enhanced curiosity and a willingness to learn. You might pretend to be astronauts exploring the universe, a garden fairy who befriends a web-spinning spider, or a vet administering medicine to a sick puppy. Help your little one to develop storylines by asking them questions to get their imagination ticking!
2. Fantasy worlds can helps kids understand the real world
Fantasy play can allow kids to understand real life events by simplifying them and reenacting those experiences through characters and stories. OK, so they haven't been a princess in real life or a ninja warrior, but it's surprising how creative kids can be when drawing parallel storylines. For example, your little one may not be allowed to eat ice cream for breakfast. You may hear your child reprimanding big teddy for eating ice-cream for breakfast though because it's "not a healthy, nutritious start to the day"! This could be your child's way of comprehending healthy choices.
3. Fantasy play can help support emotional development
Through fantasy play, kids can think out loud – expressing their feelings as well as learning to cope with them. For example, a child who's afraid of the dark might create an imaginary character or narrative that reflects their real life emotional state. They might have teddy who is scared of the dark in their fantasy play, with the child reenacting this fear and developing comforting solutions for teddy, in order to express their own emotions and learn to cope with them.
Please note: The products featured in this story are available to purchase in store from 26 November – 9 December 2015.
MORE STORIES