READ ALL STORIES
Easy kids bedroom makeovers (no paint required!)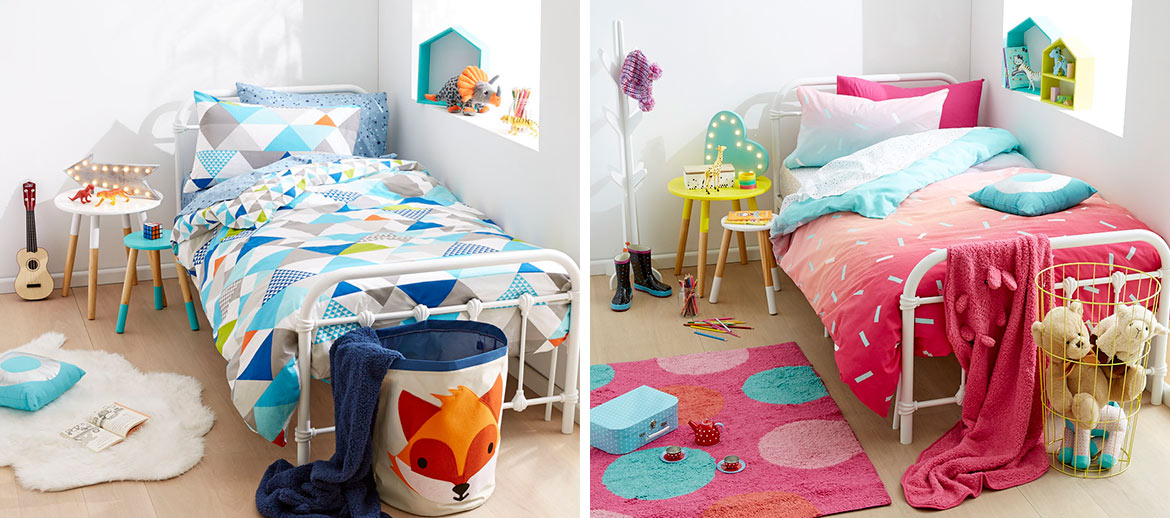 Put down that drill! These easy bedroom ideas will update the look, feel and mood of your kid's bedrooms in a flash…
Add a quilt for cool factor
One of the easiest ways to transform a room is also the simplest – a new quilt cover set! Kids beds take up ample viewing space so a simple print, colour or design change can totally transform the room and its feel instantly.
Have fun with colour
The colours you choose for your soft furnishings can transform the mood of the room –geometric prints and triangles in tonal blues with a pop of contrasting lime green or orange, work a treat in tweens and teens bedrooms, while bright rainbow colours can create a vibrant and fun colour pop! Consider the colours and mood you're going for. Will you go for bright colours that make a statement, like yellows, oranges and pinks, tonal shades with a simple yet stylish sophistication, or muted colours with a lighter, relaxed feel?
Move a cushion for head-turning impact
It's the stylist's secret to wow rooms – a great cushion display featuring a mix of shapes, styles and colours on a bed adds instant visual effect. Update the room with the latest foil cushions and bold purples and fuchsia. Or simply pull back a quilt cover to reveal a quirky sheet set (the kids will love that they don't have to fully make the bed!).
Please note: The products featured in this story are available to purchase in store from 11 June – 24 June 2015.