READ ALL STORIES
How To Throw An Awesome Pyjama Party
Pillow fights, pyjamas, sweet treats, games… and loads of laughs! The kids will love popping into their onesies for some all-night fun. Here's how to throw an awesome pyjama party...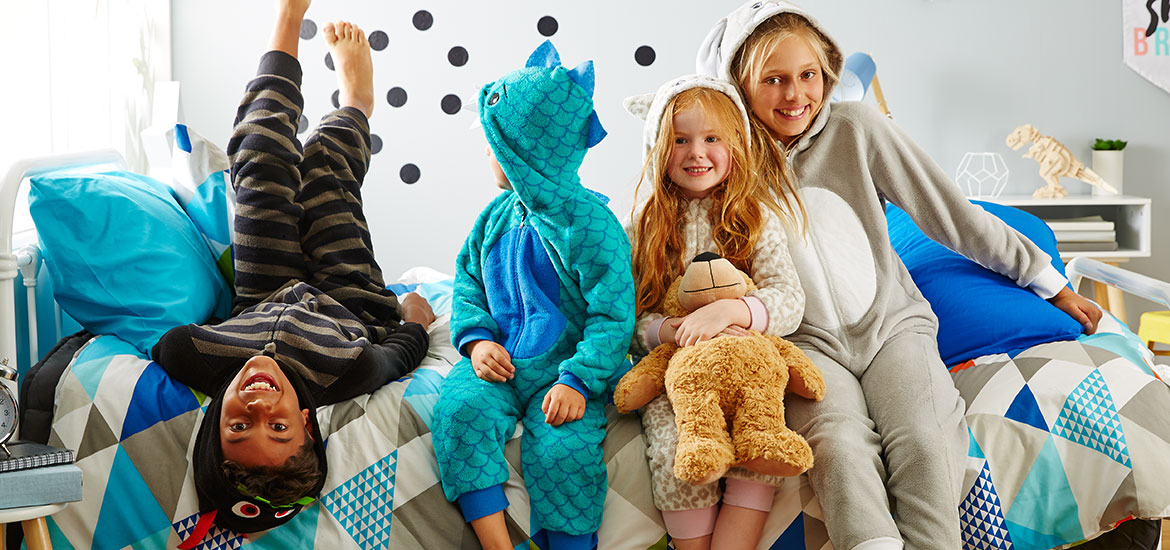 Make an invite list!
Your child will love making a list of their besties to invite. Set a limit, or you may have the whole class invited! Make sure you have enough bedding and floor space for everyone to sleep comfortably.

Lock in the details!
Logistics have never been so much fun! Help your child set the dress code, date, time and venue. Make it during the evening so their mates can arrive fully decked out in their pyjamas. A fun pyjama party theme can add to the excitement, look for cute novelty fleece onesies and bed socks for inspiration.

Stock up on pyjama party food supplies!
The perfect way to get the kids into shopping and cooking is to let them come up with their own ideas for fun foods and see how creative they are. A chips and dips serving platter loaded up with different snacks is a great option for any theme. A popcorn maker is perfect for cinema style popcorn and a movie marathon. If you're having a midnight cook-off, make sure you have a few whisks and muffin trays on hand for the kids to mix up dinner! For an animal print party, bake some animal shape cookies in advance and then the kids can decorate them with icing. For a healthier option, slice some carrot and celery sticks in a flash with a vegetable cutter. Make sure you have options for kids with allergies and food intolerances.


Add fun decor and decorate
It wouldn't be a party without party decorations! The kids will love transforming the house into a party zone. Hang bunting and balloons from the walls, switch on light boxes or LED string lighting for mood and add a few in-theme characters around for fun – teddy bears for an animal theme, chef's hats for a cook off, novelty wigs for karaoke and superhero posters will pop! Set up a party food table in the theme colours with disposable cups, napkins, plates and serving platters (and save yourself hours of cleaning up later!).

Let the fun begin
Set up a karaoke machine for the kids to have a sing-off, pull out Twister for a physical laugh-a-thon, turn the lights off, the music on and hand out glow sticks for a disco! If that's all a bit too noisy for you, the kids may enjoy a night of hair and makeup experimentation or a game of Cluedo. Hand out fun dress ups like sunnies, party hats and bed socks for the kids to take selfie snaps.

Sleep tight
If there's too many kids for the bedroom, hit the lounge room. Novelty sleeping bags and themed bedding and cushions scattered in fun, on-trend colours and designs will make the room pop. Blow up air mattresses are a great option for hard floors and come in single, double and queen sizes for little wrigglers and top-to-tail sleeping options. To really impress the kids, set up a glamping tent in the middle of the house!

Please note: The products featured in this story are available to purchase in store from 17th until 26th March 2016.
MORE STORIES