READ ALL STORIES
Avengers play! How to ignite your little one's imagination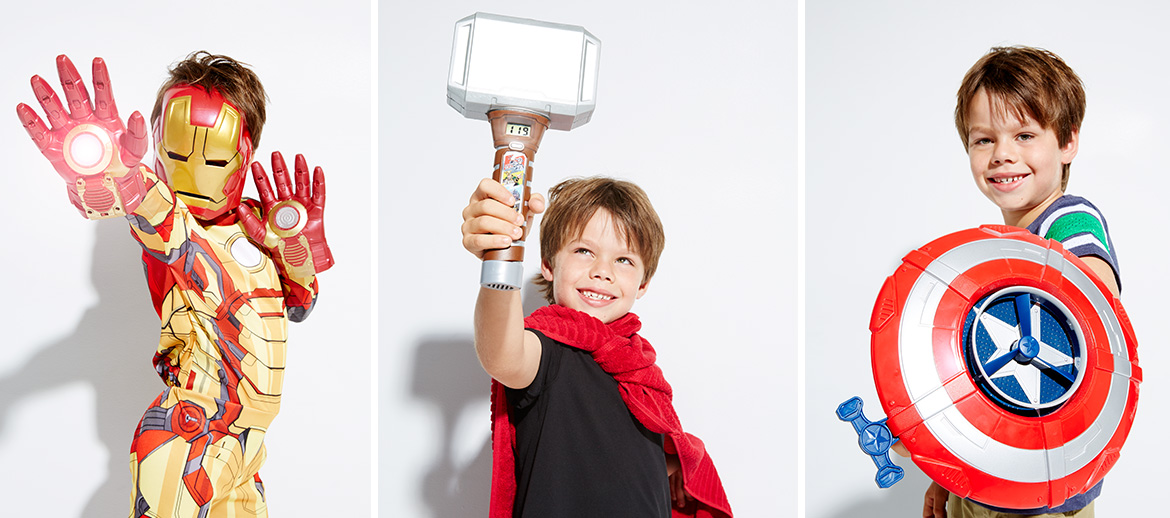 Encouraging children to use their imagination through role play helps them learn social skills, creativity and absorb and understand experiences they've encountered or seen. So we've created these tips for Avengers play to get them going…
1. Create good versus evil teams
Children are taught from an early age not to steal, bully or break the rules. So encourage them to develop social skills, and learn right from wrong, by creating a goodies versus baddies game scenario. There are loads of goodies and baddies with Avengers. Let Iron Man lead the good team, or your little one for great imaginative play and interaction, and let them go wild with the baddies – learning right from wrong has never been so much fun.
2. Set the scene
Guide your little one to set up a scene and draw on their planning, creativity and special skills. They could set up a scene on a faraway planet, in their local suburb or in a fantasy land. Explore other worlds, planets and what might be on those places. There could be schools, shopping centres, goodie and baddie bases, city buildings you name it. Let them create and add to their scenes with drawings and interactive pieces, like jets or other everyday objects such as bedside tables.
3. Create a 3D story
Your little ones can be part of the action and use the Avengers characters to launch their own good versus bad scenarios, with themselves as heroes! Thor's power hammer, Ironman's gloves and Captain America's launching shield makes an impressive tool to get active and defeat evil. They also make great dress-ups for creative play with or without friends!
4. Develop the storyline
Help little ones develop a narrative by seeding ideas. You may suggest that the Hulk turns green with rage, so how will his Avengers friends stop him from pummelling everything in sight? Or that Ironman loses his powers, and needs to use clever manoeuvres to defeat the baddies, but how will he capture them? Offer a problem and just watch as your child finds a solution!
Please note: The products featured in this story are available to purchase in store from 16 Aril – 29 April 2015.