READ ALL STORIES
How To Choose The Right Scooter For Your Child
Posted on June 23rd, 2016
If you're confused about which scooter to buy for your little one, you've come to the right place. Here, we explain the hottest wheels for your child's age and skill level to ensure they get as much action-packed fun as possible.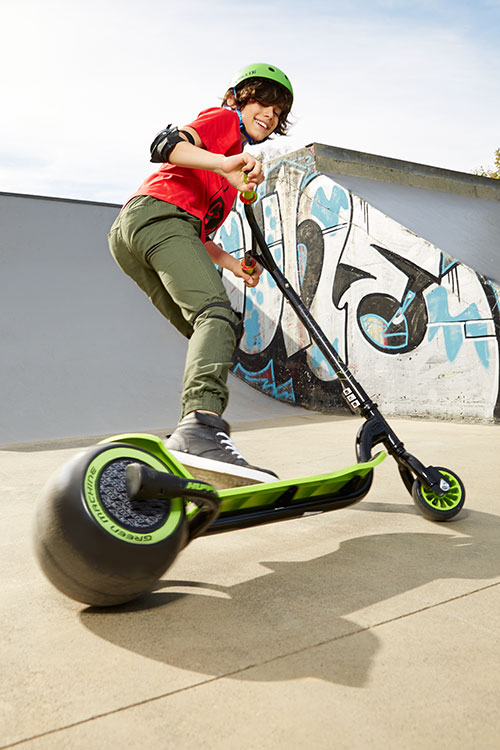 Green Machine Tail Whip Scooter. Ages 8+ years.
$69
SHOP NOW
Green Machine Tail Whip Scooter [Drifter]
Whether your child wants to perfect the coolest tricks on the block, or just kick back with the smoothest ride on the street – this revolutionary new drifter delivers on both fronts, says Buying Assistant Bikes and Recreation, Melissa.
A rear-brake stops the wheel and starts the amazing drifting action, while the over-sized 8" blow-moulded rear tyre adds the much needed side-to-side spice. Add that rear-width to the over-sized front PU wheel and you have one of the slickest scooters on the market. The comfort level is increased again by the wide, non-slip plastic skateboard-style deck, and ABEC-5 bearings. All that manoeuvrability isn't compromised by safety features either, thanks to the braking power, and strong, durable steel frame and fork.
Pro Scooter
If your child is big on performance, durability and style, you're shopping in the right place. Pro riders know what it takes to go big, to throw down, and to push the limits – all with the peace-of-mind insurance of back-wheel braking. This scooter will turn heads too with its aluminium deck, BMX-style handlebars and stylish two-piece steel frame. But it's not just a looker – not by a long shot, promises Melissa. The aluminium triple clamp is strong and durable. And with comfort features such as soft BMX grips, ABEC-7 smooth-ride bearings and adjustable handlebars, your child will be riding long after their mates are ready to throw in the towel and curl up in front of the telly.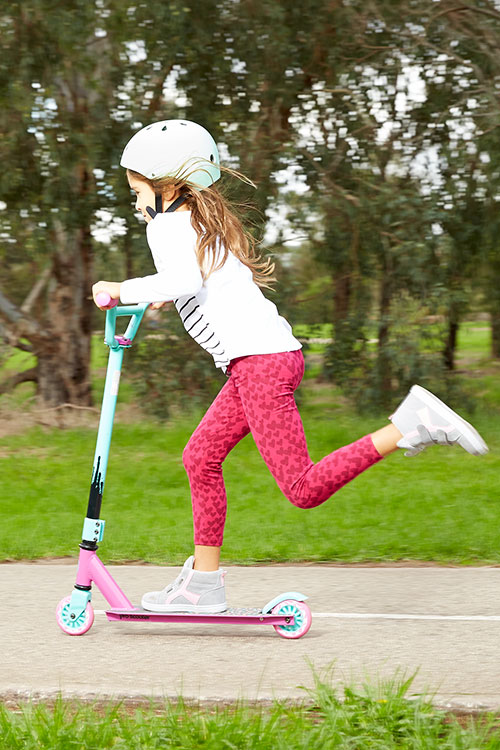 Pro Scooter. Ages 5+ years.
$49
SHOP NOW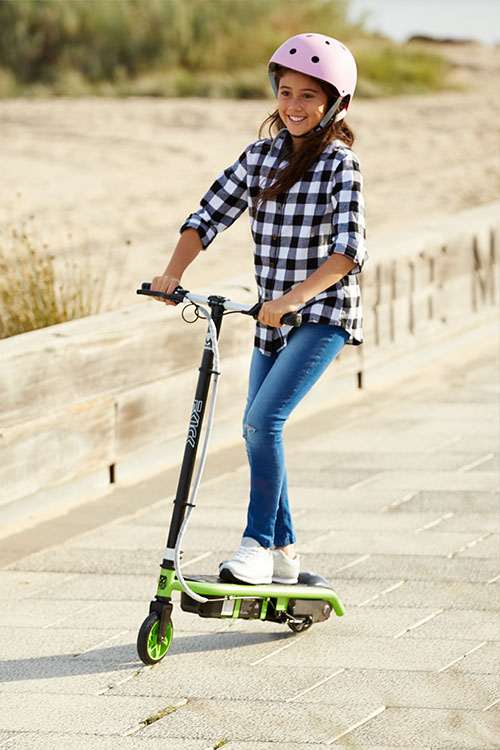 Electric E-Scooter. Ages 8+ years.
$119
SHOP NOW
The Electric E-Scooter
Fast kids and fun motors! "The electric scooter can travel up to a safe 12km per hour and has a variable speed throttle, giving kids great control and allowing them to easily stop and start," says Kmart's Scooter Buying Assistant Melissa. A graphic deck adds to the cool factor, while high visibility wheels and deck rims in on-trend colours, like lime green, are great for safety. The scooter's compact design makes it easy for children without any previous scooter experience to impress their mates from day one too!
Razor A Kick Scooter
The retro cool Razor A model is where the action lives, whether you're looking to cruise, or throw down some tricks. With high-quality ABEC-5 bearings, the ultra-slick Razor offers a smooth ride without compromising on speed. Safety-wise, the Razor also has its rivals beat. Thanks to an original rear-fender step friction brake over a 98mm urethane wheel, your child can stop on a dime. When they finally reappear for refuelling, you don't need to fret about the Razor cluttering up floor space, or the driveway for that matter, says Melissa, "With a handlebar and head tube that folds down with the flick of a quick release hatch, a scooter has never been easier to carry or store."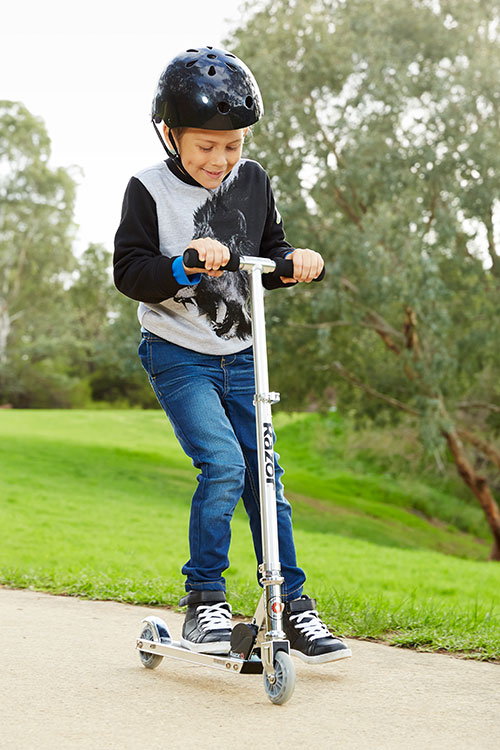 Razor A Scooter. Ages 5+ years.
$39
SHOP NOW

Please note: The products featured in this story are available to purchase in store from 23rd June until 13th July 2016.
MORE STORIES