READ ALL STORIES
Spring Drinks: recipes for parties, outdoor get togethers & more…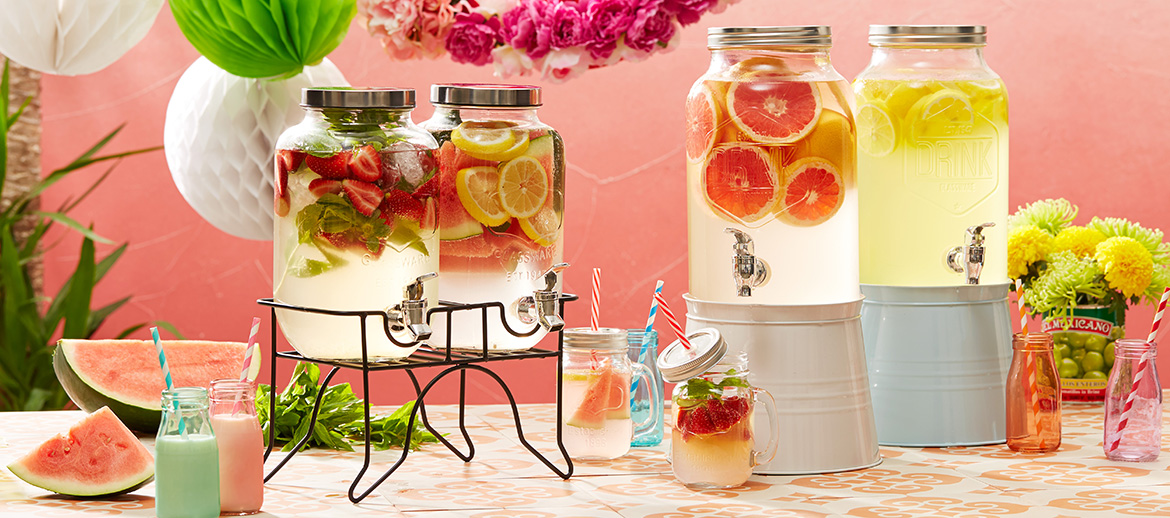 Add a colourful twist to your drinks with these deliciously simple recipes… Move over food. Liquid refreshments are the new party favourite! These colourful drink recipes are easy to make and look great. Transform the refreshments table with fruity drinks served from old style dispensers and glass jars. They'll be a hit at parties, outdoor get-togethers and Spring BBQ's – cheers to that!
Strawberry and mint water
Sweet and sour never tasted so good… Ingredients: 8 parts natural spring water 2 parts strawberries Sprig of mint
Directions: Fill the dispenser with eight parts of natural spring water. Cut strawberries into quarters and add. Stir in mint leaves to taste.
Watermelon crush
It looks like pink lemonade, but tastes like fruity heaven… Ingredients:
7 parts ice tea 3 parts watermelon juice Directions: Cut chunks of watermelon and blend until almost liquid.
Fill the dispenser with three parts watermelon juice and seven parts ice tea. Add slices of watermelon and lemon and top with ice. TIP: A dual drink dispenser has two 3.5 litre dispensers, so you can make two great recipes for guests to choose from.


Blood orange and grapefruit punch
This citrusy refreshment has a zesty bite… Ingredients: 6 parts fresh or packaged ruby grapefruit juice 4 parts coconut water blood oranges to taste Ice cubes to serve
Directions: Fill the dispenser with six parts of fresh or packaged ruby grapefruit juice. Add 4 parts coconut water. Add fresh blood orange juice to taste.

Lemonade
This old-time favourite will never go out of style…

Ingredients: 3 parts water
2.5 parts sugar
4.5 parts fresh lemon juice
extra lemon slices for garnish, optional

Directions: In a saucepan over medium flame, heat two parts of the water with the sugar, stirring until dissolved. Add remaining water. Set aside to cool. To speed up the cooling, set over a bowl full of ice and stir. When room temperature, stir in lemon juice. Serve with ice. Garnish with lemon slices.


Please note: The products featured in this story are available to purchase in store from 3 August – 31 August 2015.