READ ALL STORIES
Dressing The Kids For Winter
It's as easy as one, two, three to get the kids dressed and cosy warm. Check out how to create four of our favourite styles with our simple layering tips.
Denim Rockstar
Matching patterns and texture is easy with monochrome prints and denim. Start with a simple white long line tee with black detail. Lightweight materials are perfect as a base layer. Follow with denim overall dress for a stylish twist. For extra warmth on the go tie a monochrome pattern shirt around the waist. It looks great across the denim and when the weather drops it's the perfect additional layer. Complete the look with a cute pair of black boots and for additional warmth pack a pair of opaque tights. Miss Understood flannel shirt sizes: 7-16 $15, Miss Understood Hi-Lo tee sizes: 7-16 $10, Miss Understood denim pinafore sizes: 7-16 $20, girls' elastic ankle boot sizes: 6-12, 13-5 $12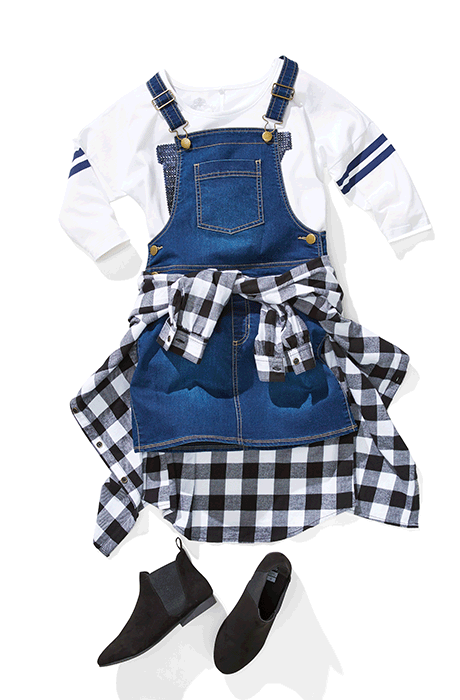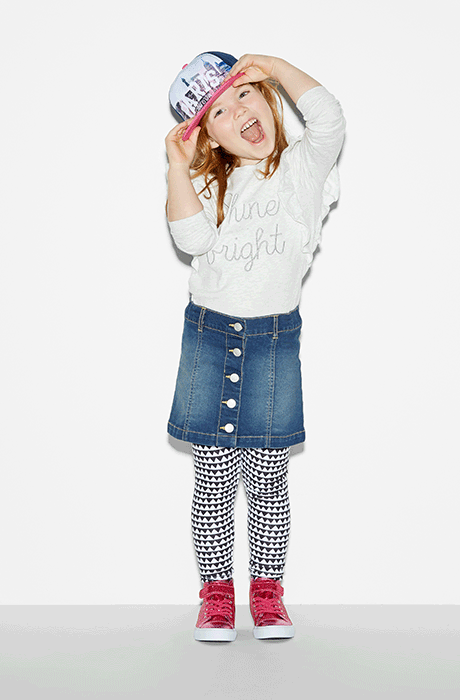 H+T girls' long sleeve fluted embroidery top, sizes: 1-7 $8, girls' denim mini skirt sizes 1-7 $12, girls' print leggings sizes: 1-7 $7, girls' cap $5, girls' hi-top casvas shoes sizes: 6-12 $15
Denim Princess
Black and white bold prints and bright colours can look great with denim. Simply start with a neutral long sleeve top and a pair of black and white print leggings. Follow with a denim mini skirt for added style and extra warmth. Complete the look with a cute pair of brightly coloured shoes that your little one will never want to take off.
Denim Rockstar
Relaxed and sporty, this style is a great go to for the kids. Start with a simple wash tee and a pair of cotton herringbone pants. For a sporty edge add a pair of hi top sneakers. To complete the look and add warmth go for a raglan varsity sweat, which complements a sporty style and can easily be tied around the waist when the weather warms up.
H+T boys' collegic tee sizes: 1-7 $8, H+T boys' long sleeve tee sizes:1-7 $8, H+T boys' track pants sizes:1-7 $10, boys' hi-top canvas shoes sizes:6-12, 13-6 $9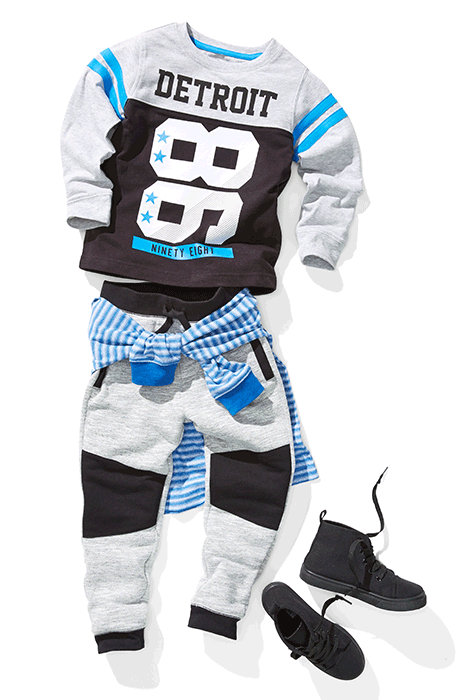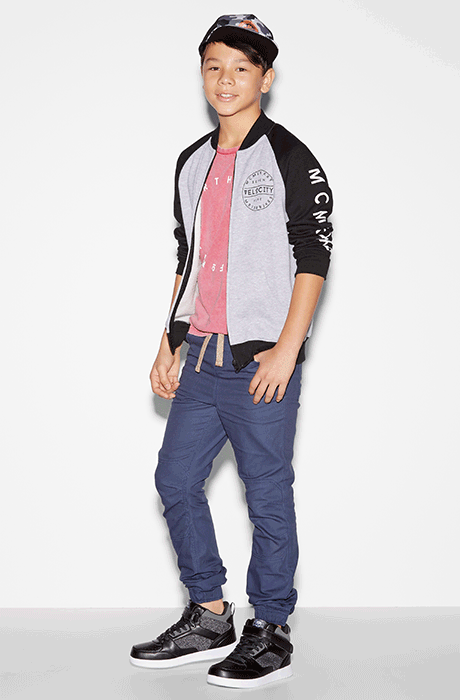 Urban Supply boys' acid wash tee sizes:7-16 $8, Urban Supply boys' raglan varsity sweat sizes: 7-16 $12, Urban Supply boys' pants sizes: 7-16 $15, boys' cap $5, boys' hi-top sneakers sizes: 13-6 $22
Casual Superstar
Kids love a comfy outfit they can jump, run and play in and with the added bonus of a cool design both mum and child will love this look. Start with a jumper and tracksuit pant. Add a pair of black runners and tie a long line stripe pattern tee around the waist. This will break up the solid colour and add a bit of fun to the style while also offering another layering option to the mix. You can pop the long line tee under the jumper on cooler days or replace the jumper with it on warmer days.
Please note: The products featured in this story are available to purchase in store from 3 March 2016- 16 March 2016.
MORE STORIES