READ ALL STORIES
Parents tricks revealed: "how I make dressing fun for the kids"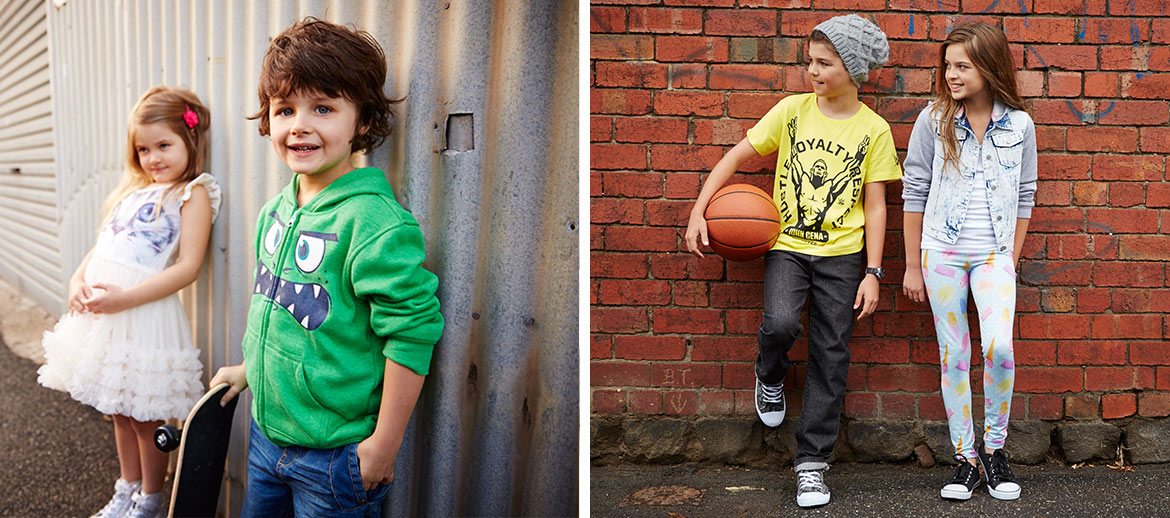 Just imagine… cool and creative clothes that will have the kids busting to get dressed each morning – without you having to ask!
These tips could be the answer you've been looking for… Make dressing fun for kids with everyday clothing that inspires their creativity, individuality, imagination and even fantasy play. From on-trend mesh designs to cute cats, fierce monsters and hoodies, kid's imaginations can run wild! Even better, creative designs may even inspire them to want to get dressed each day! If you're still battling to get them off the sofa each morning, check out how these creative parents' encourage their toddlers, tweens and teens to dress independently… "Brooke is very headstrong when it comes to choosing her outfits. She loves the fashion icons and seeing what's trendy, then reinterprets their look with her own twist. At the moment she's loving mesh, turtle necks, skinny jeans and boyfriend jeans." Louise, mum to Brooke, 15."My two boys are footy fanatics and love trendy sporty clothes, like hoodies and joggers, so I use this as a motivational tool. If they choose their own outfits, get dressed then eat their breakfast each morning, they are allowed to choose footy cards or see a match on the weekend." Mandy, mum to Angus, 8, and Oscar, 10. "When my youngest is on the go-slow or reluctant to dress herself, I simply let her choose. If that means a ballet skirt over a onesie teamed with gumboots, so be it. She has fun and I just weather the odd sidelong glance from passers-by. Small price to pay for zero stress levels all round!" Liz, with Audrey, 4. "Ava is very competitive, so we often have a race to see who can get dressed first. She always chooses her own outfits for weekends – usually Princess dresses, tutus or her current favourite, photographic print tops and leggings." Brett, dad to Ava, 5. "Time is pretty abstract for a young child so I found that using an egg timer helped when Wil was younger - it gave him visual count down." Mardi, mum to Wil, 8.

Please note: The products featured in this story are available to purchase in store from 25 June – 15 July 2015.