READ ALL STORIES
Build, Shop, Cook! Christmas Toys Kids Love
Posted on October 23, 2015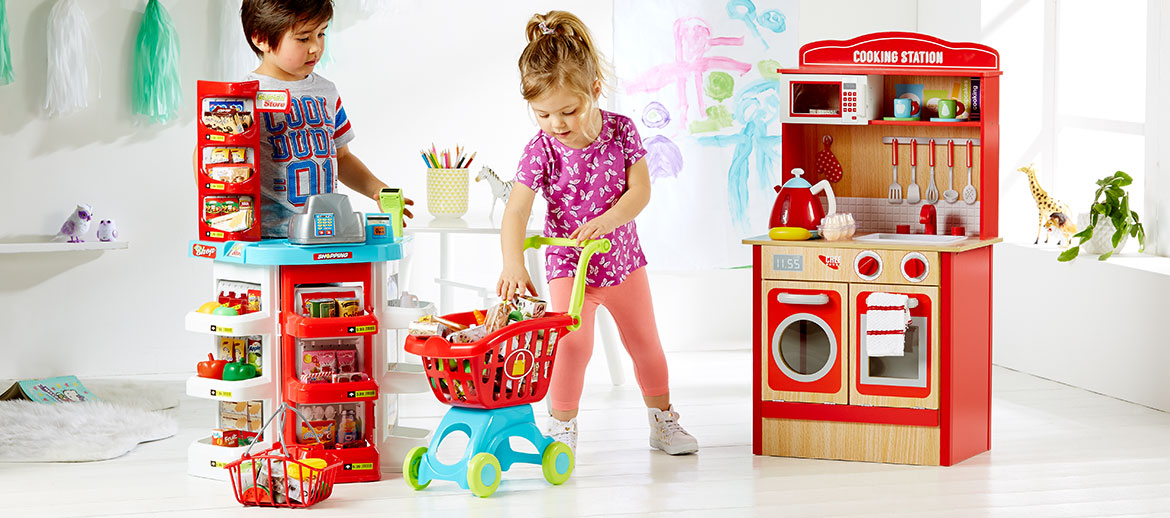 It's Christmas pressie inspiration time and the kids will love timeless role-play games! The bonus: This can help develop imagination, learning and development too!
Role-play has more benefits than just a high-dose of fun and entertainment! It provides the perfect opportunity for kids to make sense of the world, by playing out experiences they've had. Children can be creative, use their imagination, enhance their social skills, learn cooperation and learn to take turns while fine-tuning their motor skills. Check out these classic play scenarios and fun Christmas present ideas, which can help teach the kids about healthy foods, family, building and construction…
Shop 'til You Drop
Grocery shopping is a family ritual most kids experience, and playing 'shops' can make them feel like a real grown-up! Give them a shopping trolley and see what purchases they choose – fruit? Canned food? Milk? In a supermarket and café scenario, the kids can choose their favourite food, buy it, then cook it and eat it, role-playing the entire experience. Teach them about money and numeracy with a cash register with sounds, just like the real ones, or ask them if they'll be paying with credit card! They can 'swipe' or 'tap', count, scan barcodes, pack groceries and manage a mini budget!
Be A Mini MasterChef
Let your little foodie loose in their very own café or kitchen and see what they cook up! Toy kitchens provide the perfect opportunity for kids to mix-up creative recipes, use multiple ingredients and learn the art of cooking, preparation and meal plans – from purchasing foods to serving up tasty treats. Try suggesting a few nutritious options to develop their understanding of healthy foods. A play kitchen equipped with a sink, oven, washer, microwave and taps, not only helps develop fine motor skills, but can aid in planning, and prepare the kids for helping mum and dad clean up in the kitchen! TIP: Stuck for Christmas present hiding spots? Kmart's six-week layby offers a great storage solution, or order online for delivery so the wee-ones won't wonder what's hidden in the car boot!
Build A Masterpiece
Do you have a budding engineer or a Bob the Builder fan? Workbenches are old-school favorites for good reason. Toolbox essentials such as hammers, screwdrivers, rulers, and nuts and bolts provide great opportunities to explore, construct, measure, and imagine great masterpieces! Encourage them to keep their pieces organised for easy finding (and less mess!), by sorting bits and bobs on hanging rails and in different compartments.
Family Favourites
Role-play is a great way for children to learn and express their feelings. Playing families is a fun and creative way for kids to make sense of their experiences, family values, roles, responsibilities and actions. Give them a family of dolls, with each character representing a member of the family, and watch them imitate the adults and siblings in order to understand them better. They might pretend they're mum or dad is heading off to work, or a baby sister who needs mummy every time she cries!
Please note: The products featured in this story are available to purchase in store from 26 October – 8 November 2015.
MORE STORIES