READ ALL STORIES
7 Christmas Craft Ideas for the Kids!
Posted on November 10, 2015
From jingly bells and pom pom Santas to hand-made tree ornaments, Christmas craft is a sack full of fun! Get the kids' creativity going and their festive vibe ho ho ho-ing with these craft keepsakes – they'll be able to relive their festive memories year after year...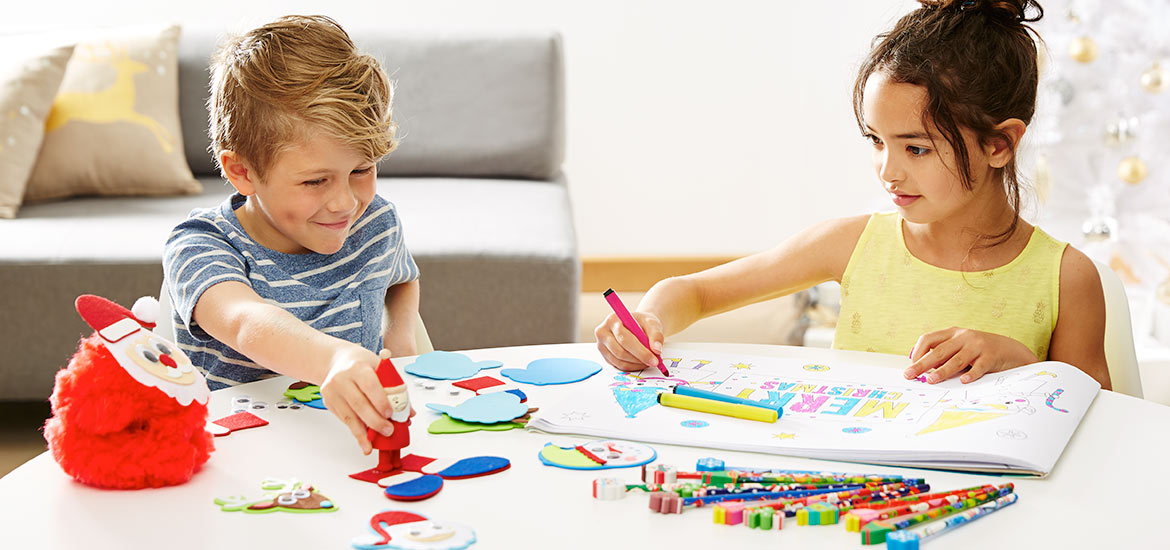 1. Make a plaster hand-print to hang from the tree!
Kids can create their very own plaster hand-print ornament to hang from the tree, then decorate it with paint, glitter, or whatever they like. Don't forget to name and date it – they can get nostalgic as they look back on how little they were and how much fun they had making it in years to come!
2. Create a Christmas stocking garland
Here's a clever idea for those odd socks at the bottom of the draw! Grab one from each family member then sew on Christmas ribbon, buttons, felt and names, and peg them to a ribbon and hang them along your shelves. Santa will be very impressed!


3. Build a pom pom Santa, snowman or tree
Do you want to build a snowman, or Santa, Rudolf and the elves? Bring Frosty and friends to life with pom pom craft – a versatile material great for little ones learning to enjoy the fun that craft brings. Add goggly eyes to snowmen, a pipe cleaner broomstick and carrot nose, a foam hat and glitter to make him come to life! Or start the kids with a simple but striking pom pom Christmas tree. Choose a Christmas bumper craft pack filled with goodies and let their imaginations run wild, or go for kits with instructions to create Santa, trees and other festive favourites.
4. Make Foam Character Ornaments
Santa's little helpers will love crafting with foam – it's easy to work with and cut and stick things too. Get the kids to decorate the tree with cute character ornaments like Rudolf, Santa and his sleigh, or a frosty snowman, who could bear a striking resemblance to Olaf!


5. Snip Up A Paper Snowflake Storm
No snow at home? Make it! Paper snowflakes are a tradition for many and the lacy patterns are easy to create. Kids will become hooked as their snowflakes become more and more intricate, which may result in a blizzard. String the blizzard together with Christmas ribbon and hang, or stick the snowflakes to an oversized piece of paper and hang on the wall.
6. DIY Christmas Cards
Merry Christmas Granny, Pop and Ms. Jones! A hand-made Christmas card for family, teachers and friends is a great idea! Let the kids loose with cardboard, pencils, stickers and glitter and see what magic they create and the festive messages they wish to share.

7. Make a Christmas Wish List Picture
Some of those Christmas wish lists can be very long, so get the kids to draw all those must-have toys they are dreaming of! Drawing is a great way for the kids to creatively express themselves. Encourage kids to draw, paint or sketch their idea of what Christmas means to them, from Santa and the elves to nativity scenes. Bring them out each year and display them to create the ultimate Christmas story – from your child!



Please note: The products featured in this story are available to purchase in store from 12 November – 25 November 2015.
MORE STORIES