READ ALL STORIES
Man oh Man! 6 in-jeanious tips to find the perfect denim jeans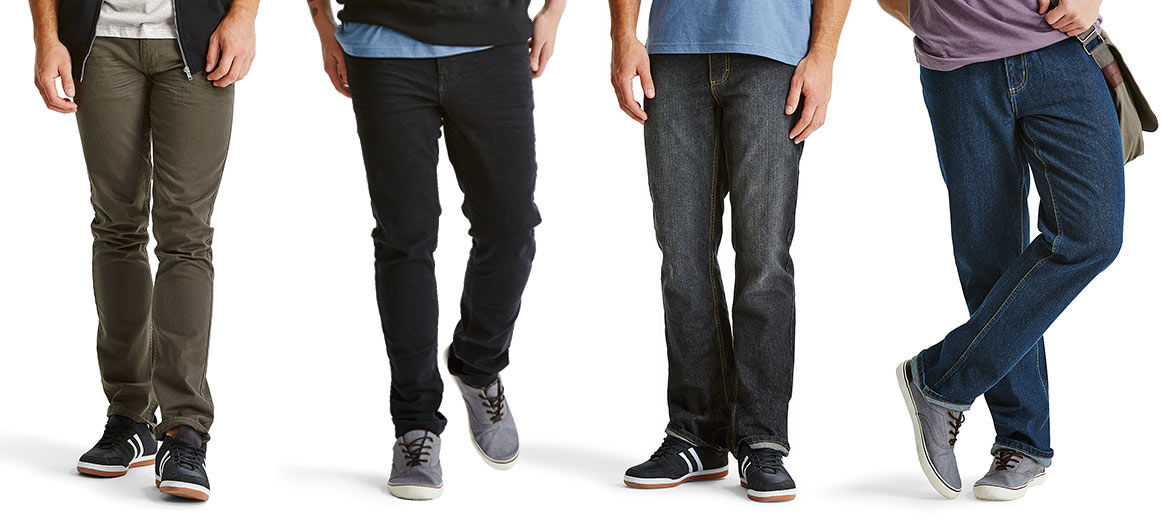 Find the perfect fit and style denim jeans minus the stress with these great tips…
They're durable, versatile, comfy, and possibly one of the most treasured items in a man's wardrobe! But it can be a challenge finding the perfect pair of denim jeans. Here's six of the top-selling styles and tips on how to wear them best…
1. Coloured
Darks are more formal, while lightly faded are a casual option for weekends and lounging around at home.
Goes with: Structured jackets for a formal effect or chunky knit sweaters, sports coat and fitted long-sleeved tee for a more chilled-out feel.
2. Slim
Designed to hug your body and show off your figure! Uses the least amount of fabric in the back panels and the leg openings are much narrower than regular fit.
Goes with: Street-inspired pieces, such as bomber jackets, long-line tees, sports tops and print canvases. Avoid excessive tailoring; this is a laid-back cool look. Black, white, navy or grey enhance the silhouette effect in heavy knits or textured fabrics.
3. Bootleg
Great choice for versatility. Should sit just below your waistline and be slightly loose through the leg. Super-wide bell bottoms will date much faster.
Goes with: Any ankle boot or zip-up style with a square or tapered toe that is most adaptable to your needs. Dress up with a tailored jacket or slip on a vintage version for effortless cool.
4. Regular
This everyday design sits at the waist with room through the leg – it's the closest fit to the original blue jean! It blends seamlessly in any informal occasion.
Goes with: A fitted white tee under a collared or wide-necked crew is a tried-and-tested combination or make it special with a military-style zip jacket.
5. Relaxed
Has a higher rise at the back compared with other cuts and adds fabric in the rear too. Leg openings are wider to accommodate more muscular or heavy set thighs. Designed for comfort.
Goes with: A long-sleeved tee under a textured shirt and boots for a low-key cool look, or dress it up with a structured shirt and blazer.
6. Straight
The cut most suited to a conservative office environment. Choose darker denim for formal outings.
Goes with: A suit coat or navy blazer. Mix it up for outdoors with a leather jacket. Canvases and a loose unbuttoned shirt over snug t-shirt is a fun variation.

Top tips:

To achieve the right length, pop on the shoes you wear most regularly. The back hem should meet the top part of your sole. Remember; wash your jeans inside out to prolong their colour.
Please note: The products featured in this story are available to purchase in store from 11 June – 24 June 2015.