READ ALL STORIES
Home Decorator's Delight: 5 Reasons We Love Marble
Posted on February 1, 2016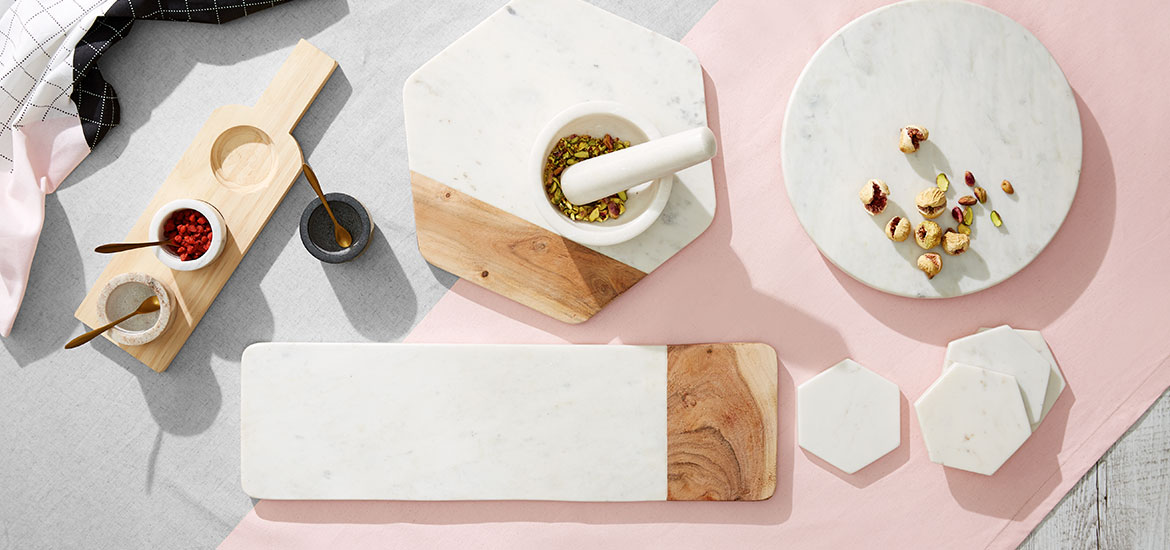 Set of 3 marble bowls on paddle $15. Marble mortar & pestle $12. Marble cake plate $15. Set of 4 marble coasters $6. Marble & acacia hexagon board $15. Marble & acacia board $15.
Add marble homewares to your kitchen, living room and outdoor spaces to create wow-factor, luxury and a sense of contemporary opulence. Check out our stylish home decorating tips and five reasons why we love marble…
1. It's Timeless
Artisans have used this natural stone for centuries - from the ancient Greek and Roman heroes immortalised as carved marble statues and age-old buildings featuring grand marble columns, to luxurious furniture designs such as mantle pieces, dining tables and decorative objects. Today's designs are much more sleek and stylish, with a contemporary spin proving that marble will never go out of style. We love the modern designs, with on-trend geometric shape candleholders, serving boards and outdoor pots.
2. It's Strong And Durable
This natural stone has proven to be exceptionally durable throughout the ages and is renowned for both its strength and elegance. For hardworking marble picks that combine function and flair, look to the kitchen! Try a mortar and pestle or serving boards, cake stand and coasters. Or head outdoors with a fabulous solid planter that will add character to your garden.
3. It Compliments Many Styles
It's sleek and sophisticated, but the versatility of marble means it compliments a whole load of different interior designs and styles, from bold colours and geometric prints to industrial look wire pendants and baskets and even metallic finishes. Mix and match your marble with colours and finishes to create a unique look. For a serving plate packed with style and texture, try an acacia and marble hexogen board.
4. It Works In Any Room
Add marble pieces that are made to be seen to your kitchen benchtop with plates and bowls, light up your living room with table and floor lamps, and add sophisticated accents to bathrooms by placing stylish candle holders wherever you want to create ambience.
5. It Has Form And Function
We love homes that are packed with personality as much as we love homewares that perform – and marble has the best of both! Choose pieces that can be used and enjoyed as a stunning feature piece. Think cutting boards, feature doorstops, pestle and mortar, coasters, cake plates and more. The beauty of marble is that as well as being a striking piece, it can be cleaned in a flash.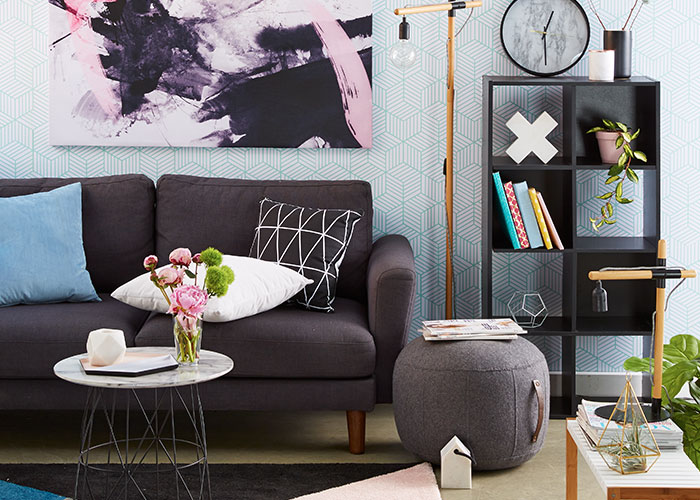 Real marble tealight holder, cross or doorstop, $9ea.

Please note: The products featured in this story are available to purchase in store from 1 February – 21 February 2015.
MORE STORIES