READ ALL STORIES
4 Tran-Seasonal Pretty Prep Looks
Posted on August 24, 2015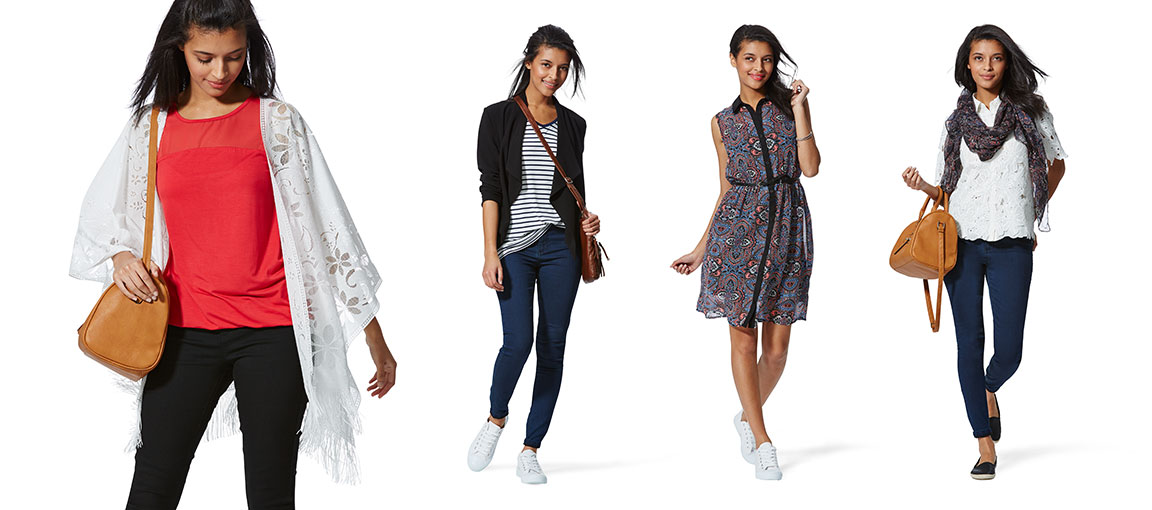 Choosing what to wear in between seasons can be tricky. So here are 4 Tran-seasonal pretty prep looks that you can wear from work to weekend.
Girls' day out
From shopping with the girls to birthday parties add a pop of colour to your outfit with a bright top. Throw on your favourite pair of black jeans, a tanned bag and some black flats. Complete the look with a kimono throw over. $8 sheer layer tank, $15 ultra soft denim jeans, $20 lace kimino
9-5 Pretty
Pair a basic stripe V-neck with a blazer and some skinny jeans for a causal yet stylish look. For comfort and ease throughout your workday add a cross body bag and some plain canvas shoes. $10 v-neck tee, $20 waterfall jacket, $15 ultra soft denim jeans, $10 canvas shoes
Dating in style
Whether it's a date during the day or at night a pretty floral dress can go a long way. For daytime wear pair the dress with some plain white lace up canvas shoes. At night layer the look with a cardigan or crop jacket and opaque tights with boots or heels. $20 sleeveless shirt dress, $10 canvas shoes
Weekend classic
Perfect for Saturday coffee or lunch dates with the girls; team up a pair of skinny jeans with a white lace top, black canvas shoes and a simple bowler bag. On cooler days layer the look with a printed scarf. $17 lace top, $15 ultra soft denim jeans, $15 espadrilles
Please note: The products featured in this story are available to purchase in-store from 27 August – 6 September 2015.
MORE STORIES